Gold Funding Group offers Invoice Financing solutions for business growth.
Our invoice financing solution is explained below. If you have any questions, our team is eager to assist you.
Call us at 1-800-818-1321.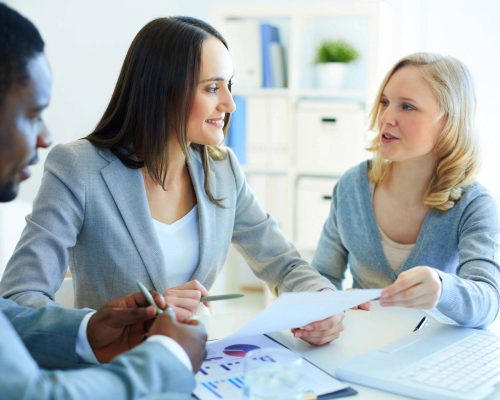 In industries with large contracts and long repayment cycles, businesses can leverage their outstanding account receivables as collateral for a loan. Get access to cash when you need it most, without having to wait for your clients to pay you back.
Take the next step to find the funding your business needs today!
Our years of experience in funding businesses across a vast suite of industries led us to discover how Gold Funding Group can help businesses of any size. 
Utilize an Invoice Financing loan to sell the amounts already owed to you by your clients, so you can get cash right now. We can approve these kinds of deals quickly and get you funded in less than 2 days.
Gold Funding Group facilitates funding for businesses with a FICO score as low as 500, uses "soft-pull" credit checks, and can provide unsecured loans for businesses, even after three months in business.
Take advantage of our knowledge, 15 years of experience, and relationships with many large lenders to get a working capital loan today.
| | |
| --- | --- |
| Estimated Business Loan Term | 2 to 29 Months |
| Rates | 5% to 45%* |
| Time in Business Required | 3 Months |
| Min Credit Score Require | 500 |
| Min Monthly Deposits Required | 2 |
| Min Monthly Revenues | $8,000 |
| Min Business Loan Amount | $5,000 |
| Max Business Loan Amount | $1,000,000 |
| Max Number of Negative Days | 6 Within a Month |
*rates depend on duration of funding.
Ready to grow your business?
Complete our simple application now and see how much you qualify for.
Bad or No Business Credit? No Problem!
Getting funded with Gold Funding Group, even with bad credit, means your business is never out of options.
Gold Funding Group offers a large suite of lending services for businesses of any size.  See our other funding solutions below:
Receiving funds has never been easier!
We make the application and funding process as simple and easy as possible. Apply and get funded within 24 to 48 hours.
Begin Your Application Today
Start your application and receive your funds in as little 24 to 48 hours.
Fill out the form below and we'll reach out within 1-2 business days.
Give us a call, send us an email, or fill out the contact form and we'll get back to you within one business day!